Canterbury Cathedral, White Cliffs of Dover, Greenwich, Leeds Castle Tour
| | |
| --- | --- |
| Included Highlights: | Air Conditioned, Professional Tour Guide, Canterbury Cathedral, Historic city, Leeds Castle, Dover Cliffs, Greenwich |
| Duration: | Full Day fully escorted Tour (approx. 9 hours) |
| Included: | Cliffs of Dover, Canterbury Cathedral, Leeds Castle |
| Departures: | Monday, Tuesday, Wed., Th, Friday, Saturday (Sunday: cathedral only open for religious services). |
| Ref. number: | 01000. |
Prices: Canterbury £ On Request »Dover £ On Request »
Your request of services E-mail: info@londontourguides.com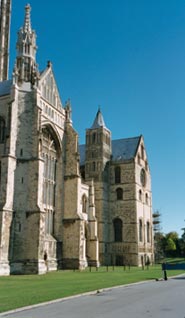 Departing towards the South of England, you travel through the County of Kent also known as "The Garden of England", the trip takes you along the route of popular and religious tradition: "The Pilgrim Way". Immortalized by Geoffrey Chaucer in the 14th. C. in his most famous book "Canterbury Tales", the city is the cradle of Christianity in Britain.
Just before arrival, the first glimpse of the Cathedral does impress with its majestic beauty, but nothing prepares you for the intricate medieval stonework of this " Flower of the Perpendicular Style". It became a place of pilgrimage in 1170 when St Thomas a Becket was murdered inside his own Cathedral.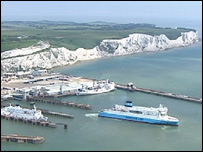 Leaving Canterbury, another 16 miles to the South coast of England to see the famous White Cliffs of Dover and the nearest crossing point to France which can be seen in the distance in a clear day. Nearby, in Folkestone, you are near the entrance to the Tunnel linking England to France by a fast train called "Le Shuttle" taking private cars and lorries across the English Channel. Confirmation E-mail: info@londontourguides.com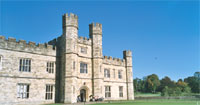 Visit Leeds Castle, one of the prettiest in England. Surrounded by a moat and in the middle of an enormous park, the castle contains a large collection of medieval furniture, tapestries and old paintings.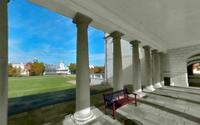 The castle includes a large variety of facilities from the licence to marry, to an elegant Tea Room, Aviary, idyllic gardens, wooded hills and it is heaven for children for its maze, nature trails and small jeep wagons.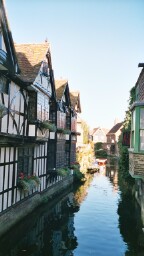 Greenwich: you will hear the story of the Cutty Sark, details of how the Meridian Line was invented, the history of the National Maritime museum and the Royal Observatory built in 1675 by Sir Christopher Wren. Finally, the tour concludes with historic Greenwich before returning to the centre of London before arriving back in London where the tour ends at about 18.00 hours. Seniors: Age 60 years and over. Please note that children must be accompanied by an adult. Courtesy morning pick up from most London hotels will be confirmed by email after your reservation.
Your request of services E-mail: info@londontourguides.com
Prices:Canterbury £ On Request »Day Tour £ On Request »