Canterbury Cathedral, White Cliffs of Dover, Leeds Castle, Greenwich.
Days of operation: Daily
'Canterbury car-tours' excursions leave London daily at approximately 08.30 a.m. or as instructed by clients.
This full day trip through the South of England, will show you the County of Kent, also known as "The Garden of England" and your driver-guide will take you alongside the route of popular and religious tradition: "The Pilgrim Way".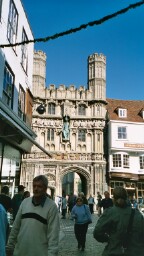 Immortalized by Geoffrey Chaucer in the 14th. C. in his most famous book: "Canterbury Tales", the city is the cradle of Christianity in Britain.
St Augustine founded an Abbey in Canterbury
St Martin brought Crhistianity to England and established a church in Canterbury
Just before our arrival, the first glimpse of the Cathedral does impress with its majestic beauty, but nothing prepares you for the intricate medieval stonework of this "Flower of the Perpendicular Style".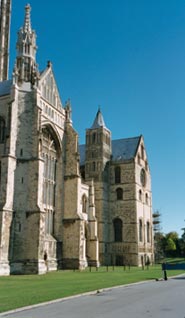 Canterbury became a place of pilgrimage in 1170 when St Thomas a Becket was murdered inside Canterbury Cathedral and news of miracles spread like wildfire.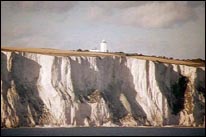 Leaving Canterbury, another 16 miles to the South coast of England to see the famous White Cliffs of Dover and later passing "Les Shuttle" near the entrance to the Tunnel linking England to France.
The last stop is for the visit of Leeds Castle, one of the prettiest in England, built on two islands, surrounded by a moat and in the middle of an enormous, beautiful park, Leeds Castle contains a large collection of medieval furniture, tapestries and old paintings.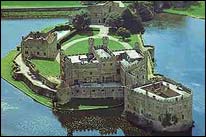 The castle includes a large variety of facilities from the licence to marry, to an elegant Tea Room, Aviary, idyllic gardens, wooded hills and it is heaven for children for its maze, nature trails and small jeep wagons.
On request, a stop near the Royal Observatory in Greenwich to admire the stunning view of London at your feet and taking photos of the GMT Meridian Line.
During the day, reasonable free time for private visits, meals and shopping before returning back to London at 18.00 approximately.
Departure: Your hotel or as per your instructions
Includes: Luxury air-conditioned car, parking, local taxes and fully qualified driver-guide escorting you throughout the day.
Days of Operation: Daily. (On Sundays, services restrictions in Canterbury Cathedral.)
Departure Time: Flexible.
Any doubts or special requirements, please do not hesitate to email us: info@londontourguides.com
Prices: £ per car with driver-guide On Request »