London For Children: Legoland Transfer
(From April till end of October)
Email for special requirements:info@londontourguides.com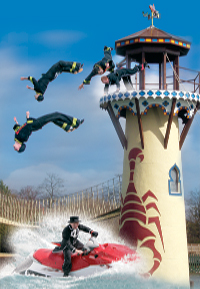 Offers something for everyone young and old with rides, buildings, interaction attractions and shows.
It is set in the countryside, in a very large park in the Royal County Berkshire.
A must for children who like to explore. Interactive Attractions. Rides for children. It boasts a detailed reproduction of cities with people and landscape that will intrigue the whole family.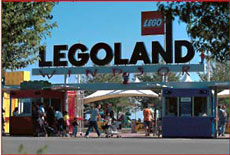 Private Transport is arranged for up to 8 people.
This Price is for one transfer to Legoland and the cost is per car and not per person.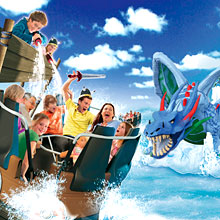 Each transfer has flexible time of departure from London and return to Central London location is also totally flexible on a pre-arranged basis.
Tickets are not included in the transfer, valid for one day only or there are more expensive tickets valid for one year from the date of purchase.
These tickets are very useful if you live permanently in England and plan to return many times again within the year.

Ask your driver which rides have the longest queue ('lines' for our USA clients). Over the years Legoland has had attractions and rides added. Adventure Land with its Jungle Coaster, Adventurers' Wave Surfer.
Balloon School, Boating School, Brickadilly's Carousel, Chairoplane and Chopper Squadron and Climbing Wall.
Other popular attractions are: Digger Challenge, Dino Dipper, Dino Safari,

Discovery Zone, Dragon Coaster, Dragon's Apprentice, Driving School, Duplo Playtown, Duplo Theatre and Duplo Train.
If you are not tired yet, head for: Enchanted Forest, Explorers' Institute, Extreme Team Challenge, Fairy Tale Brook, Ferris Wheel, Fire Academy, Hill Train and the latest Viking World.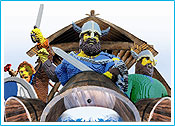 Please note that this lovely venue is outside London in the middle of a very large park.
Transport for larger groups can be arranged. Book as early as possible. Legoland opens from April to October. Email for special requirements and your preferred (08.30 a.m.?) pick up time: info@londontourguides.com
Price below refers to a large private vehicle with driver for 1 morning single transfer for up to 8 people. For smaller cars, please email us with number of people in your group.
Prices: £ per group 1 transfer up to 8 people On Request »