Celebrate a Special Occasion aboard a Luxurious London-by-Day River Cruise.
| | |
| --- | --- |
| Included Highlights: | Email us first, to find out is there are seats available for these 3 ways of discovering London by day on a Luxury River Cruise with lunch and background music. |
| Duration: | 12.00 - 14.30 (approx. 3 hours) |
| The 3 Cruise type include: | 1) 'Classic' Lunch Cruise includes 3 course set menu with tea or coffee after lunch. 2) 'Elite', 'Premier', 'Classic' Sunday Lunch Jazz Cruise. Include a set 3 course menu with tea or coffee after lunch. 3) 'Elite' Lunch Cruise includes a 3 course set menu, a half bottle of house wine and a half bottle mineral water per guest, tea and coffee after lunch, plus preferential seating in either the front two rows or a window table. |
| Departures: | Email us to find out if there are seats available. (Subject to availibility at the time of your confirmation.) |
| Ref. numbers: | 'Classic' 00002E - 'Classic/Premier/Elite Sunday Lunch Jazz Cruise' 00004E - 'Elite' 00003E (Operate with any number of partecipants). |
Reservations E-mail: info@londontourguides.com
Book your Luxury 'ELITE' Lunch River Cruise with us!
A wonderful, luxurious and unforgettable lunch cruise gliding along through Central London. Enjoy fine food, superb atmosphere and professional service in luxurious surroundings comfortably seated at your lunch table, you will experience both the view of the best historic buildings in London and enjoy a meal prepared on board in a romantic setting.
Premier 'Sunday Lunch Jazz' River Cruise: £ On Request »
Sunday Lunch Jazz Cruises includes a 3 course set menu with tea or coffee after lunch, live jazz entertainment (Additional drinks may be purchased on board from a fully stocked Bar).
The 'Premier' and 'Elite' packages include a half bottle of mineral water. In addition, 'Elite' package include a half a bottle of wine plus a souvenir photograph per couple. During the whole lunch, music and enjoy the magical view of London.
Classic Luxury Lunch Cruise Wed to Sat: £ On Request »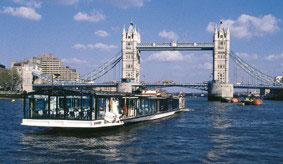 A new and extraordinary experience, the freshly prepared International Cuisine, washed down with wine, helps to relax and spoil yourself. Children's Lunch Cruises up 12.
Elite Luxury Lunch Cruise Wed. to Sat.: £ On Request »
Book your reservation E-mail: info@londontourguides.com
Include dates you would like and number of people in your party
Dress Code: Smart: No jeans, trainers or shorts - you may be refused boarding if dress code is ignored.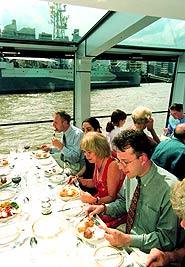 P.S.:
Please note that during Easter, St Valentine, month of December, Christmas and New Years Eve, you can enjoy Special Cruises. Different prices and conditions apply.
To avoid disappointment, always email us with your dates before booking cruises as we need to confirm with you which dates are still available.