Visit well known and enjoyable clubs - Splendid Evening Out - London By Night
Reservations E-mail: info@londontourguides.com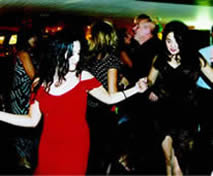 Evening party time in London. Party Crawl. You simply must not miss London by Night. Ideal evening out pampered by your friends.
Calling all party people, check out our guide to the best places on the London club scene.
From super clubs to more intimate venues, London has a great range of night spots. Whether you're after a glamorous night out or something more laid back, you'll find it one of London's top clubs.
A romantic city in complete contrast with vibrant London by day. Leisurely allowing you to club crawl with a large choice of nightlife in different areas.
Cargo: This cool venue housed under railway arches showcases an incredibly diverse range of music to a warm and friendly crowd. Cargo's tasty global street food canteen is not to be missed either. Free entry before 10pm on Fridays.
Fabric: Fabric is probably the best club in London if not the world, but make sure you like your nights noisy! If it all gets a bit much, recline on the huge leather chill-out beds and meet some new pals! You can party at Fabric on Friday, Saturday and even Sunday nights.
Ministry of Sound: This superclub has been entertaining club-goers for 20 years, spawning a record label in the process. Ministry of Sound boasts four bars, four dance floors and five distinctive rooms and still draws big names such as Paul Oakenfold, Judge Jules and Tall Pall. Book tickets in advance and get there early to avoid the long queues.
Notting Hill Arts Club: Notting Hill Arts Club gives you a place to party every night of the week, featuring everything from Latin global to nu jazz to leftfield electronica. Free entry to Death2Disco on Wednesday nights and Rough Trade's award-winning showcase of new talent on Saturday afternoons.
THAT Club: THAT Club in Greenwich brings a bit of Ibiza to London with a huge outdoor space where up to 700 people can party outside. Enjoy barbecues on warmer evenings and in winter head inside the 1600 capacity venue for a night of top house music.
Pacha: Expect a glamorous, good-looking crowd at famous Ibiza club Pacha's London venue. The luxuriously decked-out building dates back to the 1920s and boasts original oak paneling and a stained glass ceiling. Pacha London attracts some of the top DJs in the world and hosts popular club nights including Hed Kandi and Kinky Malinki.
Egg: Egg is a stylish venue spread across three intimate floors. Reminiscent of an Ibiza club, it's the outdoor courtyard that really makes Egg stand out. Cool off, chill out and have a drink under the night sky. Watch the sun come up at Egg's Sunday morning breakfast session.
Madame Jo Jo's: Central Soho dancing and drinking den Madame Jo Jo's has a scruffy well-loved sort of feel to it. Get your Tuesday music fix at White Heat with live music from talented new bands followed by DJs playing indie, electro, and alternative sounds. Plus DJ Snowboy takes to the decks every Friday night for groovy funk and soul mixes.
Plan B: Plan B is a happening South London club that attracts a fantastic crowd. With stripped down warehouse-style decor, Plan B is a great place to party into the early hours. Enjoy DJs spinning the best hip hop, R&B, funk, soul, jungle and mixes.
Price: per car, not per person £ Book »