Visit well known and historic Pubs - Splendid Evening Tour - Illuminated London By Night
Reference: Pub Crawl. Evening excursion departing from your hotel. You simply must not miss London by Night.
Ideal evening out pampered by your professional driver-guide.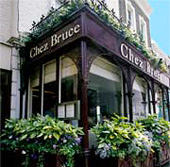 When you feet are aching, you are tired of the long day out and about but still want to enjoy being taken around by a professional tour guide to see the best of London by night.
A romantic city in complete contrast with vibrant London by day. Leisurely allowing you to admire the illuminated streets comfortably seated and noting thus the contrasting choice of nightlife in different areas of London.
You see and visit famous pubs where you can taste draught Lager, Bitter, Stouts beers or many other types of drinks.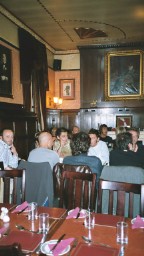 You will see some examples of old pubs: The George or similar. The old, the trendy, the historical pubs.... in the most unusual parts of London.
NOTE: Email us info@londontourguides.com To confirm a tour, email us with your date and number of people in your group.
Some pubs were built in the times of Henry VIII (16th c.) and some pubs, in the past frequented by poets such as Samuel Pepys who immortalized the Great Fire of 1666 in his "Diary".
You may want to see the pubs of other famous visitors of the past: Judge Jeffries or Charles Dickens, the 19th c. writer. You may ask your guide to follow the footsteps of Jack The Ripper down the narrow East London alleyways.
Pubs are very typical English institutions, visited by many people and enjoying a renaissance thanks to their unique atmosphere.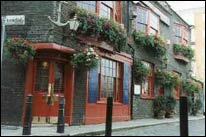 Time for a 'fish and chips' or light supper served in traditional style in one of London most historic pubs (food and drinks not included).
The return includes a brief stop in Soho at approximately 22.30 for those of you who wish to stroll a little longer and make your own way back to the hotel.
Days of operation: Daily.
To book a tour, email us with your required date and number of people in your group.
P.S.: Please note that this is a private car tour and price is per car with qualified tour guide (Not per person). Departure at clients' hotels.
IMPORTANT: The price in this list is based on the total number in your group and start from £ 157.00 GBP. Includes professional English speaking driver-guide, air-conditioned luxury vehicle, departure from the clients' hotel, flexible bespoke itinerary with stops on request, fuel, parking and local taxes.
NOTE:
To confirm a tour, email us with your required date and number of people in your group. Email: info@londontourguides.com
Prices: From £ 157.00 GBP £ On Request »