Stonehenge, Bath and Windsor castle
Visit of Hampton or similar (if castle is not available)
| | |
| --- | --- |
| Included Highlights: | Professional Tour Guide, Stonehenge, Salisbury Plain, West Country, Windsor, the Roman City of Bath, Royal Crescent, Assembly Rooms, Pulteney Bridge, River Avon and Sally Lunns |
| Duration: | Full Day (approx. 9 hours) |
| Entrances included: | Stonehenge, Baths Pump Rooms, Windsor castle. |
| Departures: | Every day (7 days a week) from near your hotel |
| Ref. number: | 0435E |
Prices: Adult £ On Request »Child £ On Request »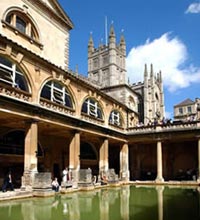 Crossing the Salisbury Plain in the South West of England, to see the 11th Century Windsor castle.
As you proceed towards Stonehenge, the temple suddenly appear in the distance: standing alone proud and gigantic in the middle of the Wiltshire countryside. It sends out an irresistible and overwelming sense of mystery.
Stonehenge is a referral point for the followers of astrology, of the solar movements, of the partial eclipses and on the special occasion of the 21st June, the area is attracting big crowds of various cults and New Age travellers who gather here and try out the strength of the electromagnetic field.

A place for meditation, archaeological studies, contemplation for points of magnetic conjunctions and extraordinary feelings. At the entrance, two 7 feet high stones welcome you with an invitation to touch them for your own personal and natural contacts with the past.
A Strong emotion is caused by the sight of this mysterious and prehistoric place with its intriguing and ancient history.
Windsor castle: a picture is worth a thousand words.

.
Extraordinary visit to the megalithic temple and continuing across the river Avon to Bath, one plunges back into the 1st. Century.
Bath is the most famous secrets of England. Still partly undiscovered underground, the Romans established a complicated system of baths and a Sacred Temple, over a natural hot spring, nearly 2000 years ago!
Prices: Adult £ On Request »Child £ On Request »
STONEHENGE ONLY. LATE DEPARTURE: £ 38.00GBP per person including admission but without a Tour Guide. Days of Operation: Daily. Afternoon tour direct to Stonehenge! Leaving time: 11.50 from East London. Departing from West London 12.30 p.m. Highlights: Entrance to Stonehenge included - extended visit. Audio guide tour at the site. Professional driver and luxury air-conditioned coach. Scenic drive through the Salisbury plains. Afternoon departure - tour returns to London at 7pm