Wimbledon Tennis Championship Tour
Email: info@londontourguides.com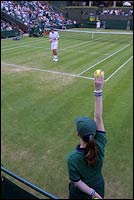 Ref. No. 0714E. The very first Lawn Tennis Championships at The All England Croquet and Lawn Tennis Club was an amateur event in 1877.
Just 22 men entered the Gentlemen's Singles which was eventually won by Spencer Gore.
The Ladies' Singles competition began in 1884, with Miss Maud Watson triumphant out of the 13 entrants.
The All England Lawn Tennis Club The All England Lawn Tennis & Croquet Club, which is responsible for staging the world's leading tennis tournament.
It is a private club founded in 1868 originally as The All England Croquet Club, and its first ground was situated off Worple Road, Wimbledon.

The complex include The Wimbledon Lawn Tennis Museum which shows the best in Lawn Tennis including the development of the game, costume evolution and great players' equipment and a collection of sporting memorabilia.
A new Roof has been installed to make the International Tournament more efficient.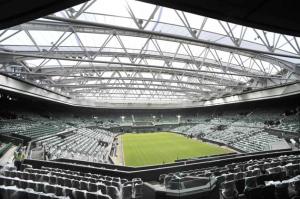 Our clients will learn more about tennis equipment including rackets through the ages, tennis ball technology and the Cyclops which is the sensor that precisely judges if a ball is in bounds or not.
The collection also has a display of the clubhouse dressing rooms used by seeded players and the opportunity to take pictures with the Championship trophies.
Price: £ per car, not per person * On Request »
* During the June International Tennis Championship, we run an after 5 p.m. entrance to the grounds.

During these 2 weeks in June/July, you can see the best national and international tennis players of the moment showing this sport at its best.
There is a long, slow moving (entertaining) queue in order to enter the grounds.
Questions? Email us: info@londontourguides.com