Windsor Castle - Eton College - Fully Escorted Car Tour - see Runnymede.
Ref. 0248E Half Day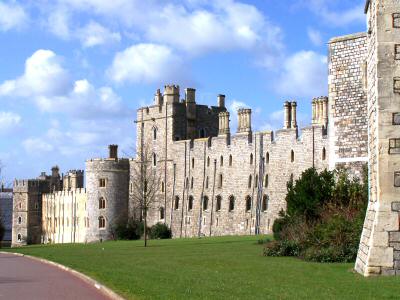 Following the river Thames from Central London all the way up approximately 20 miles from London, this luxury fully escorted car tour, offers both a good drive through historic areas of London and a view of the pretty English countryside. On the North bank, the river passes by Eton College where we stop for photos. Eton was founded in 1440 near the river Thames and the village has kept much of its original style for over 500 years.
The river Thames blends around Windsor Castle and parts of its magnificent park and

Eton College in the distance.
This is the most historic castle in Britain and contains a priceless collection of paintings, furniture, porcelain, tapestries handed down from many generations of monarchs who lived there.
Time for visiting the castle although, Treasures and Works of Art are not the only interest in the visitor's mind: the historic part of the town of Windsor is beautifully preserved and very pleasant and enjoyable for a stroll.
Crossing the Thames at Runnymede, the tour follow the course of the river, back to the Big Ben in Central London where you may decide to take a River Cruise in your freetime or you may either prefer us to take you back to your hotel or finish at Harrods for your own private shopping or late afternoon tea.
Pick up: your hotel or as per your instructions
Includes: Luxury Car and fully qualified driver-guide
Days of operation: Daily
Departure time: easrliest morning 09.30 or latest afternoon 14.00 approximately
This tour can be combined with an Heathrow departure.
Prices from £ 197.00 GBP : £ per car with driver On Request »