Banchetti, Hotel, Ristoranti, Pub, Club, Bar, Discoteche e Londra Notturna
Banchetto Medievale Ref. No. 0194i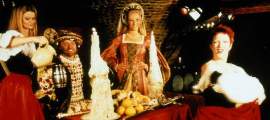 Fate un passo indietro nel tempo e passerete una bella serata in un ambiente tipico del sedicesimo secolo inglese con il re Enrico VIII e tutte le damigelle d'onore che vi serviranno il caratteristico cenone dell'epoca in un rilassante ambiente medievale. Godetevi questa amichevole serata in compagnia dei vostri amici e della vostra famiglia. I vostri bambini sono benvenuti!
Price: £ A Richiesta »E-mail: Info@londontourguides.com
I Migliori Hotel di Londra
Hotels 3 Star: £ A Richiesta »
Hotels 4 Star: £ A Richiesta »
Hotels 5 Star: £ A Richiesta »
Clubs
Camden Palace, 1a Camden High St, NW1
Tel: 020 7387 0428 Club nights: Feet First; Peach
Tube: Mornington Crescent
Heaven Under The Arches, Craven Street, WC2
Tel: 020 7930 2020 Club nights: There. Tube: Charing Cross
Herbal, 12-14 Kingsland Rd, Shoreditch E2
Tel: 020 7613 4462 Club nights: Apple Crumble.Tube: Old Street
HMS Royal Princess, Westminster Pier, SW1
Tel: 079 32675 8499 Tube: Westminster
Ministry of Sound, 103 Gaunt Street, SE1
Tel: 020 7437 0964 Club nights: Smoove Tube: Elephant & Castle
Pop, 14 Soho St, W1 Tel: 020 7734 4004
Tube: Tottenham Court Road
The End, 16a West Central Street, WC1 Tel: 020 7419 9199
Tube: Tottenham Court Rd/Holborn
The Living Room, 443 Coldharbour Lane, Brixton SW9
Tel: 020 7703 7779 Tube: Brixton
The Social, Linton St, Islington N1 Tel: 020 7494 2998
Tube: Islington
Turnmills, 63b Clerkenwell Road, EC1 Tel: 020 7250 3409
Club nights: The Gallery, Tube: Farringdon
93 Feet East, 150 Brick Lane, E2 Tel: 020 7247 3293
Club nights: Keep It Unreal; Haywire Sessions
Gardening Club, 4 The Piazza, WC2 Tel: 020 7497 3154
Club nights: Flirt Tube: Covent Garden
Metro Club, 19-23 Oxford St, W1, Tel: 020 7437 0964
Tube: Tottenham Court Rd
The Elbow Room, 89-91 Chapel Market, N1
Tel: 020 7278 3244 Tube: Angel
The Electric Ballroom, 184 Camden High St, NW1
Tel: 020 7485 9006 Tube: Camden Town
Bar Rumba, 36 Shaftsbury Ave, W1,Tel: 020 7287 2715
Club nights: Night People, Tube: Piccadilly Circus
Club 414, 414 Coldharbour Lane, SW9
Tel: 020 7924 9322 Tube: Brixton
Dogstar, 389 Coldharbour Lane, SW9
Tel: 020 7733 7515 Club nights: Bullit; Elevate Tube: Brixton
Fabric, 77a Charterhouse St, EC1 Tel: 020 7336 8898/ 7344 4444
Club nights: The Boutique meets Bugged Out Tube: Farringdon
Ocean, 270 Mare Street, Hackney, E8
Tel: 020 7314 2800 Club nights: A Night with Vault
Station: Hackney Downs/ Hackney Central Railway Station
Propaganda, 201 Wardour St, W1 Tel: 020 7434 3820
Club nights: The Legendary Sunday Sessions (featuring DJ Goldie)
Tube: Tottenham Court Rd
The Bug Bar,Under St Mathew's Church, Brixton Hill, SW2
Tube: 020 7738 3184, Tube: Brixton
The Fridge, Town Hall Parade, Brixton Hill SW2
Tel: 020 7326 5100 Tube: Brixton
The Velvet Rooms, 143 Charing Cross Road, WC2
Tel: 020 7439 4655 Tube: Tottenham Court Road
333 Club, 333 Old St, EC1 Tel: 020 7739 5949 Tube: Old Street
Fluid, 40 Charterhouse St, EC1 Tel: 020 7253 3444
Club nights: Neutral Tube: Farringdon
Annabelle's, Berkeley Square, W1
Madame Jo Jo's, 8-10 Brewer St, W1F
Tel: 020 7734 3040 Tube: Piccadilly Circus
Plastic People, 147-149 Curtain Rd, EC2
Tel: 020 7739 6471 Tube: Old Street
Soshomatch, 2 Tabernacle St, EC2
(020) 7920 0701 Tube: Old Street
Sound, 10 Wardour St, W1D
Tel: 020 7287 1010 Club nights: Carwash Tube: Leicester Square
The Africa Centre, 38 King Street WC2
Tel: 020 7836 1973 Club nights: Funkin' Pussy Tube: Covent Garden
50 St. James Casino, 50 St. James' St, SW1A
Tel: 020 7491 4678 Bars and restaurants: Open 12 noon - 02.00
Casinos
Aspinalls, 28 Curzon Street, W1 Tel: 020 749 9459
The Clermont Club, 44 Berkeley Square, W1X 5DB
Tel: 020 7493 5587
Bars and Restaurants: Open 12 noon - 03.00, Sunday bar tl. 22.30
The Connoisseur Club, Royal Gardens Hotel, Kensington High St, W8
Tel: 020 7603 1155 Bar: Open 13.00 - 02.00 Sunday until 22.30
Restaurant: Open 19.00 - 02.00
Crockfords Club, 30 Curzon Street, W1Y
Tel: 020 7493 7771 Bar: Closes midnight on Mon-Sat, & 22.30 Sun
Restaurant: Opens 14.00 - 02.30
Cromwell Mint Casino, 43 Cromwell Road, SW7
Tel: 020 7589 4041 Bar: Closes 03.00
Restaurant: Closes 03.00
Flemings Hotel Mayfair, 13 Half Moon Street, Mayfair, W1
Tel: 020 7499 2964
The Golden Nugget Casino, 22 - 32 Shaftsbury Avenue, W1V
Tel: 020 7439 0099 Bar and Restaurant: Open 17.30 - 03.00
Sunday bar: Open until 22.30 and Restaurant open until 23.00
Grosvenor Victoria Casino, Victoria 150 & 162 Edgeware Road, W2
Tel: 020 7262 7777 Bar: Open 12.30 - 02.00
Restaurant: Open 12.30 - 03.30
Grosvenor Casino, The Gloucester, 4 - 18 Harrington Gardens, SW7
Tel: 020 7373 7134
Bar: Open from 17.00 - 23.00
Restaurant: Open from 19.00 - midnight
Ladbroke Barracuda Casino, 1 Baker St, W1M
Tel: 020 7935 5013
Restaurant: Open from 13.30 - 02.00 (22.30 Sundays)
Ladbroke Casino Club London, 262 Tottenham Court Road, W1P
Tel: 020 7299 7600 Bar: Open from 18.00 - 02.00
Restaurant: Open from 18.00 - 02.00
Ladbroke Casino Piccadilly, 196 Piccadilly, W1V
Tel: 020 7534 7600 Bar: Open from noon - 03.00
Restaurant: Open from noon - 03.00
Gaming Room: Wed, Thurs and Friday gaming until 06.00
Ladbroke Golden Horseshoe Casino, 79 - 81 Queensway, W2
Tel: 020 7221 8788 Bar: Open from 18.30 - 02.00
Restaurant:Open from 14.30 - 02.00
Ladbroke Maxims Casino, 1a Palace Gate, Kensington, W8
Tel: 020 7581 0337 Bar: Open from 13.00 - 02.00
Restaurant: Open from 13.00 - 03.00
Ladbroke Russell Square Casino, 61 - 66 Russell Square, WC1B
Tel: 020 7833 1881
Bar: Open from 14.00 - 03.00 Restaurant: Open from 19.00 - 03.00
Les Ambassadeurs Casino, 5 Hamilton Place, W1V
Tel: 020 7495 5555
Bar: Open from noon - 03.00 Mon to Sat and until 23.00 Sun
Restaurant: Open noon - 03.00 Mon to Sat and from 19.30 - 03.00 Sun
The Palm Beach Casino, 30 Berkeley St, W1
Tel: 020 7493 6585Bistro: Open 19.00 - 03.00
Bar: Open from 14.00 - 03.00 Mon - Sat and from 14.00 - 22.30 Sun
The Rendezvous Casino, 14 Old Park Lane, W1Y
Tel: 020 7491 8586 Restaurant: Open from 13.00 - 01.30
Bar: Open from noon - 03.00 Mon to Sat and until 22.30 on Sunday
Restaurant: Open from 13.00 - 01.30
Ritz Club, Ritz Hotel, 150 Piccadilly, W1
Tel: 020 7493 8181 Hours: 14.00-4.00
The Sportsman Casino, 8 Tottenham Court Rd, W1P
Tel: 020 7414 0061
Restaurant: Open from 12.30 - 03.00 Mon - Sat and from 12.30 - 23.00
Sportsman Club, 40 Bryanston Street, W1
Tel: 020 7414 0061 Hours: 14.00-04.00
Stakis Regency Casino Club, Tel: 020 7837 3655
The Imperial Hotel, 61-66 Russell Square, W1
Bars e Pubs
The Anchor, 34 Park Street, Bankside, SE1
Not far from The George Inn and situated close to the replica of Shakespeare's Globe Theatre, this is a large pub with lots of history. Several bars with views of the River Thames.
Cheers, 72 Regent St, W1
Cheers was inspired by the popular US comedy series, and incorporates bar,restaurant and merchandise store. It is the perfect venue in which to host a party - Cheers offers a top-end dining experience with style and high quality. In the evenings, Cheers changes from Bar and Restaurant to a busy dance bar featuring celebrity DJs. And, it stays open till late!
The Cock Tavern, Smithfield Central Markets, EC1
A full English breakfast with a pint of ale or perhaps kippers and smoked haddock. Mix with the rumbustuous, friendly workers from London's oldest meat market from 05.30 - 10.30.
The Counting House, 50 Cornhill, EC3
Located in the heart of the City of London, The Counting House is a former bank which retains much of the original interior. The mosaic floor displays the names and dates of former bank branches. Lots of impressive mahogany, a glass domed atrium and chandeliers too. London brewed Fullers beer, with freshly made pies.
The Crusting Pipe, 27 The Market, WC2
Strictly speaking more of a wine bar than a pub, although they do serve their own beer. Good atmosphere, wooden tables and fine wine. The food's good, particularly the cold cuts. If you like a glass of port, then try Davy's Vintage Character - it's very good.
Doggett's, Blackfriars Bridge, SE1
There has been a pub on this South Bank site since Elizabethan times - although much changed over the centuries. After extensive refurbishment, it now features four floors of completely redesigned bars, to suit relaxing or lively lunchtimes or evenings. There is a brand new menu catering for all tastes and quite reasonably priced. Doggett's is named after Thomas Doggett, comedian, actor, theatre manager, author and wit of the 17th century.
Flyman & Firkin, 166 Shaftesbury Avenue, WC2
Another of the famous Firkin pubs but this one features an on site micro brewery. Look out for unusual brews; anyone for Dogbalti, curry flavoured beers or perhaps chilli beer?
Founders Arms, 52 Hopton Street, Bankside, SE1
A modern pub located on the South Bank named after and built on the site of a former foundry. The bells for St Paul's Cathedral were cast here and you can sip on your beer whilst watching the traffic on the River Thames.
The Gate, 18 - 20 St John Street, EC1
Stylish, relaxing and good value. Classic decor blends with contemporary style, mahogany wooden floors, wood panelling and subdued lighting enhanced by huge windows. A varied selection of beers, spirits and wines with an imaginative food menu. Dishes include feta salad with roasted peppers, salmon fish cakes and French fries, and much more.
The Globe, 8 Bedale Street, SE1
If you are in need of a drink in the early hours try this pub, frequented by market traders from nearby Borough Market. Open between 06.30 - 09.30 Tuesday to Saturday.
The Good Mixer, 30 Inverness St, off Camden High Street, NW1
Don't be surprised if you spot a mid level Britpop celebrity or two in here, hanging out after a recording session at a nearby studio. There is a pool table and lots of smoke - very popular with Brits and tourists alike.
Goose & Firkin, 47 Borough Road, SE1
Part of a chain of Firkin pubs, but don't be put off, the formula's good and so is the beer. Wooden floors with sawdust, traditional cockney sing songs around a piano, you even get song sheets so that you can join in. Respectably raucous and great fun.
The Grenadier, 18 Wilton Row, SW1
Once the officers' mess for the Duke of Wellington's regiment this is a cosy pub set in a private mews running parallel to Knightsbridge. Wooden floors, real English ale and a small traditional English restaurant. The Beef Wellington is highly recommended.
The House They Left Behind, 27 Ropemaker's Fields, E14
A pub with plenty of history in the heart of the East End. Once teeming with workers from the docks and residents of the local area, this pub sits alone as all the old tenements and houses have been demolished - definitely worth a visit. A wide variety of beers available.
Lamb & Flag, 33 Rose Street, WC2
18th century pub around the corner from Covent Garden. Boasts two busy bars, popular with London office workers during the lunch hour. Located in a pedestrianised alley off Garrick Street. Courage beer and a good selection of cheese platters.
Marquis Of Anglesey, 39 Bow Street, WC2
Recent winner of the Association of London Brewers award for best pub food in London. Youngs beer, a la carte and set menu.
Medicine Bar, 181 Upper Street, N1
Expect bohemian decor and a trendy local crowd, loud music and a good choice of beers. Arrive early at weekends if you want to get in. On Friday and Saturday nights it's popular that it's members only - but you can get enrolled free of charge if you visit during the week.
The Moon Under The Water, 28 Leicester Square, WC2
Part of the growing and popular Wetherspoons group of pubs. Wetherspoons have developed a winning formula; light, airy, traditionally styled pubs and probably the cheapest beer in London. With lots of brews to choose from and reasonably priced food.
Museum Tavern, 49 Great Russell Street, WC1
Before or after a trip to the British Museum, why not pop across the street to this big, ornate Victorian pub, stuffed to the gills with etched mirrors and gilded carvings. It opens for breakfast at 09.30, but alcohol is only served during regular licensing hours.
Nags Head, 53 Kinnerton Street, SW1
A very popular pub with a friendly atmosphere and locals, which is just as well because of its size (small). Of course the famous London brewed Youngs beer is served here.
The Old Bank Of England, 194 Fleet Street, EC4
Fine Fullers beers and pies in the former law court branch of the Bank of England. No shortage of space, impressive architecture and you should have no problems being served; the Old Bank boasts 31 hand pumps.
Orange Brewery, Pimlico Road, SW1
This independent pub brews its own beer and, unusually, during the summer, its own lager. Two bars, frequented by Pimlico's smart set.
The Pembroke, Primrose Hill, NW1
The Pembroke has an open layout and is decorated using smoky blue hues, barley yellow walls and rich wood trimmings. The design is enhanced with large mirrors and coloured stained glass. The open log fire is a welcome retreat on cold days. A cosy pub, fashionable bar and continental cafť with a menu that ranges from lemon chicken and noodles to beef bourguignon.
Rivers, 35 Albert Embankment SE1
Located between Lambeth and Vauxhall Bridges, with views from the upstairs restaurant of the Tate Gallery. Good food with an a la carte menu.
Sports Cafe, 80 Haymarket, SW1, Tel: 020 7839 8300
The Sports Cafe is an excellent bar and restaurant with three bars, a dance floor, 120 TVs and 4 Super Screens showing live international sport. It has a fantastic atmosphere and it stays open until 02.00 every day in the week, 03.00 at weekends. And, the food is great too!
The Swagman's Rest, 596 Holloway Road, N1
Refurbished and newly opened last year, this pub is a must for the long haul traveller. Aimed at the back pack crowd, it offers a homely atmosphere combined with all the comforts of home, in the shape of nine large television screens, showing Sky sports from around the world. You can even email home for free, Sunday to Thursday from the surf centre and on the weekends there's lots of live music.
Via Fossa, Canary Wharf
Opened recently in a former 19th century docks building, this new bar overlooks the dock basin, with a walkway to the Canary Wharf complex. If you have problems finding Canary Wharf look to the east, the Tower is the tallest building in London! Via Fossa is set on two levels with a distinctive and rather attractive gothic theme.
Westminster Arms, 9 Storey's Gate, SW1
Outside of the House of Commons Bar which is closed to the public, this is the most popular pub for the UK's MP's If you happen to visit when voting is taking place in the nearby Houses of Parliament they even have a bell to call them back to vote!
Wilton Arms, 71 Kinnerton Street, SW1
Edwardian decor with intimate nooks and crannies, with lots of knick-knacks and brass artefacts. When you have finished here walk a few steps to the Nags Head.
Ye Olde Cheshire Cheese, Wine Office Court, 145 Fleet Street, EC4
Good reasonably priced beer with lots of atmosphere. With lots of bars to choose from this 17th century pub has oak tables and wooden floors covered in free sawdust.
Youngs Brewery, Wandsworth, SW18
Youngs brewery still delivers to selected pubs using horse drawn drays. You can take a tour of the stables, see the working horses, and watch beer being brewed in the brewhouse and of course sample the beer in the adjacent Brewery Tap pub. Tel: 020 8875 7005.
* * * * * Hotels 5 Stelle:
Langham Hotel: Located near Oxford Circus in the heart of Londonís West End, the Langham Hotel, London is ideally situated near Regentís Park and only a short walk from Piccadilly, Trafalgar Square, Parliament Square and the best of the capitalís shopping, on Regent Street, Bond Street and Oxford Street. Theatreland is also very close along with a wide array of museums, restaurants and other tourist attractions. Prices start from £ 70.00 GBP. Guest Services include: Business centre, Broadband, Health Club and SPA, 24 hours room service, meeting facilities. http://www.langhamhotels.com/langham/london/index.html
* * * * Hotels 4 Stelle:
Crowne Plaza St James is a standard 4 star. Alternatively, low budget 4 star like Hilton Euston, Holiday Inn Regents Park still very central, but would be considerably cheaper.
Rembrandt hotel: Kensington. Situato a pochi minuti di distanza da Harrods, il famoso grande magazzino Londinese che e' rinomato in tutto il mondo, questo hotel si trova a pochi minuti di cammino da Hyde Park e direttamente di fronte ai piu' famosi musei della citta'. L'hotel e' nella migliore posizione di Londra se avete bambini e se vi piace fare 'shopping'.
Ristoranti
Lunch
Quod is a Restaurant, Bar and Private rooms based on the Haymarket in the heart of the West End!
On the same road as Her Majestys Theatre and The Theatre Royal Haymarket and in eyesight of Leicester Square!
Weekdays we are open from 8.30am serving coffee and pastries and Afternoon Tea (£4.95) from 3 - 5pm, followed by a fantastic Pre & Post Theatre Menu (£10.95, 2 courses) and on Sunday nights we have just launched LIVE JAZZ!
Contact us to Book these clubs, bars, pubs, restaurants, hotels, casinos, banquets, discoteques and leisure places.
We are building up a portfolio of interesting places we have been visiting.