Purchase Here your Tickets for London Tours UK Entrance Fees & Major Events

Please note that some visits are joined. EXAMPLE & PRICES: SCROLL DOWN. London Eye is sometimes joined with Madame Tussauds the Wax Museum. Make sure that you do not inadvertently book twice the same visit. Note that most bus tours already have entrance fees and cruises included. Some excursions include historic places which have FREE Entrance such as the British Museum . Some historic places are closed certain days of the week.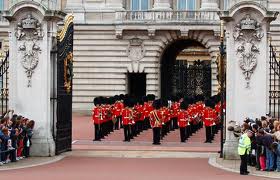 * Buckingham Palace is only open to the public in the period from August to end September. The Changing of the Guard alternate between Buckingham Palace and Windsor Castle most months of the year and dates may alternate. The Changing of the Guard is cancelled when it is raining. For confirmation, ask your tour guide on the day.
Reservations Queries E-mail: info@londontourguides.com
Price: £397.00 London/Legoland/London 2 Trns Book »
Transfer plus 1 h.r Tour Confirmation : £297.00 Book »
Theatre Tickets Booking Confirmation: £79.00 Book »
Legoland Berkshire Adult entrance fee: £41.50 Book »
Legoland Berkshire Child entrance fee: £32.40 Book »
Windsor castle Admission Fee per Adult £39.00 Book »
Madame Tussauds Wax Museum Adult: £28.80 Book »
Madame Tussauds Wax Museum Child: £24.60 Book »
Madame Tussauds Wax Museum Family £99.00 Book »
London Eye - Panoramic Wheel Adults: £18.60 Book »
London Eye Panoramic Wheel Child 4/15 £9.54 Book »
London Eye Panoramic Wheel Senior 65 £15.00 Book »
London Eye Panoramic Wheel 1 Family : £56.28 Book »
Buckingham Palace Aug/Sept. 2012 TBA £37.50 Book »
THEATRE TICKETS: * Best seats available on the day of clients booking confirmation
Billy Elliot . . . . . . . . . . : £79.00 Book »
Chicago . . . . . . . . . . . . : £79.00 Book »
Les Miserables . . . . . . : £79.00 Book »
Mamma Mia . . . . . . . . : £79.00 Book »
Phantom of the Opera: £79.00 Book »
The Lion King . . . . . . . : £79.00 Book »
The Mousetrap . . . . . : £79.00 Book »
Wicked . . . . . . . . . . . . : £79.00 Book »
We Will Rock You. . . . : £79.00 Book »
* (Tickets cannot be exchanged or refunded after purchase.)